AGATHOCLES – mincecore since 1985 (T-Shirt)
Black T-Shirt with discharge print on front and back side. High-quality single Jersey in heavy 190gr-quality. 100% cotton with reinforced neck band and double stitching on sleeves and waistband. The soft and even surface guarantees razor-sharp print results.
What is "Discharge Printing"?
Discharge ink causes the black dyes in the fabric to be removed, it bleaches the fabric and adds the colour. The result is a very soft print, you won´t feel any colour at all. The printing won´t become brittle or cracked.
AGATHOCLES – mincecore since 1985 (Zipper)
Black hooded zipper with print on front and back. Heavy 290 g/m² Quality, made of combed cotton, which is roughened inside.
For these jackets we use raw material from Starworld, an environmentally conscious brand that produces exclusively according to the specifications of the Oeko-Tex Standard 100 label.
The textiles are made of 100% organic cotton, which is grown without any addition of chemicals.
AGATHOCLES – 1990: the Happy Land fire (LP)
The first of a total of 8 AGATHOCLES LPs in a limited edition of 300 copies will be out beginning of 2020.

More infos soon…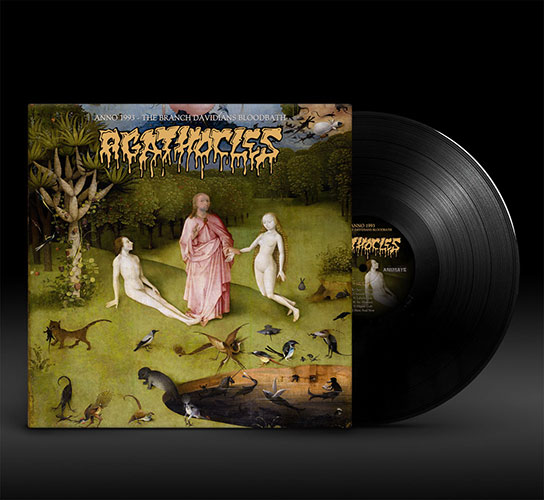 AGATHOCLES – 1993: the Branch Davidians bloodbath (LP)
The second one of this series of 8 AGATHOCLES LPs in a limited edition of 300 copies will be out beginning of 2020.

More infos soon…